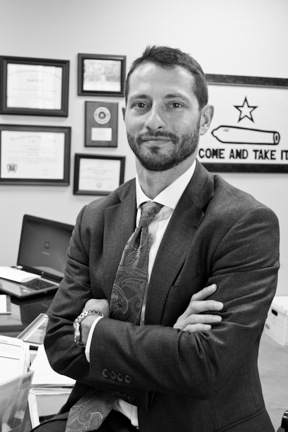 Joshua Hill
Board Certified
Criminal Trial Attorney
Joshua Hill is an experienced criminal defense attorney who aggressively defends the rights of his clients. If you are charged with a crime, you want a lawyer who is not only willing to fight for you, but who also understands how to most effectively do so. Joshua has the experience & certifications you are looking for.
Certifications:
Board Certified in Criminal Law, Texas Board of Legal Specialization
The National Trial Lawyers Top 100 Trial Lawyers
Member of the College of the State Bar of Texas
Graduate of 38th Annual Texas Criminal Trial College
Graduate of Advanced Trial Skills Course
Graduate of Intoxilyzer 5000 Operation and Forensic Breath Alcohol Testing
Successfully Completed Axion Analytical Laboratories Forensic Chromatography Course
Member of Harris County Criminal Lawyer's Association
Member of Texas Criminal Defense Lawyer's Association
Member of National College for DUI Defense
Attended Top Gun DWI Course
Attended Lone Star DWI Course
Felony and Misdemeanor Certified Bilingual Attorney (English & Spanish)
Joshua spent 8 ½ years with the Harris County District Attorney's Office as an intern and as a prosecutor assigned to multiple areas, including the misdemeanor division, the felony trial bureau, and the post-conviction writs division. As a prosecutor, Joshua gained valuable insight about how a prosecutor investigates, builds, and tries a case against an accused citizen. This valuable experience gives him the tools necessary to carefully deconstruct the government's case in order to provide the best defensive strategy for his clients. Over the years, Joshua has tried a number of misdemeanor and felony cases, ranging from marijuana possession and DWI to aggravated robbery and murder. He has also successfully handled numerous post-conviction matters ranging from motions for new trial, direct appeals, writs of habeas corpus, non-disclosures, and expunctions. Joshua exclusively handles criminal matters and is one of only a handful of lawyers in the Houston area that is Board Certified in Criminal Law. Joshua Hill is also bilingual, which allows him to assist clients who are more comfortable communicating with him in Spanish.
Being accused of a crime can be a terrifying and life-changing experience. Joshua prides himself on the close relationships he builds with his clients in order to understand their concerns and goals during the process. You are not just another client and your voice will be heard.
Joshua is not only a fighter in the courtroom, he has also competed in multiple combat sports over the years. He earned his first degree black belt in Brazilian Jiu Jitsu from Rilion Gracie and he also wrestled and boxed in college. Before beginning his career as a criminal defense attorney, Joshua even owned and coached at a mixed martial arts gym for a number of years. Whether fighting in or out of the courtroom, Joshua always gives everything he has.